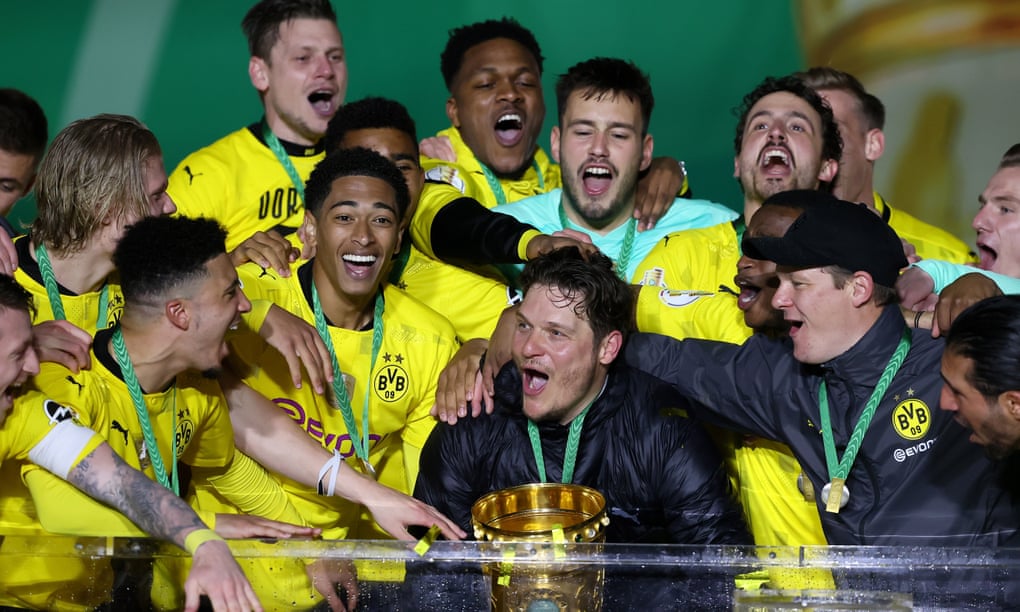 The recent announcement that Marco Rose would no longer be the manager at BVB came as a bit of a shock. For two weeks, Sebastian Kehl appeared to maintain that Rose would, in fact, be retained for next season. In fact, the signings of Niklas Süle and Nico Schlotterbeck along with Salzburg's Karim Adeyemi appeared to be moves made with Rose's blessing. That Dortmund was rebuilding for a future under the direction of Marco Rose seemed to be the interpretation of events as understood by Dortmund fans.
But, something unexpected happened in that post-season meeting between Rose and the management team of Kehl, Zorc, Watzke and outside consultant Mattias Sammer. Prior to that meeting, there were no demands for Rose's head, in fact, the largest critic was Sammer, and he simply demanded that there be vast improvements on the defense that conceded 52 goals in the league last season. But moves to "fix" the defense were already underway with the signings of Süle and Schlotterbeck and rumored interest in left backs David Raum and Ramy Bensenbaini. Additionally, the inordinate rash of injuries was certainly just as responsible, if not more so, as any other factor in Dortmund's struggles this year. Did Rose become defensive at that fateful meeting and refuse input or criticism in his tactics? Or were issues other than the defense in play?
Certainly, the development of young players like Y. Moukoko and other young players like Jamie Bynoe-Gittins must have been discussed. There were numerous reports that Moukoko, Dortmund's 17 year old youth league star who came with the expectation of ultimately emerging as a first team superstar, was looking to move on. Rose apparently did not believe that Moukoko's development merited more than casually being inserted in only the last few minutes of games. Disappointing loanees like Reinier and Pongracic, despite their routinely unimpressive performances and the public decision neither would return next season, were routinely given preference over young Dortmund players. Ansgar Knauff, who was playing regularly at the end Terzic's managerial regime, chose to request a loan in the middle of this season, as he was primarily just riding bench. Out of nowhere, Thomas Rothe made his debut late in the season in a start against Wolfsburg and was BVB's man of the match, scoring a goal on a great header off a set piece and playing solid defense all game. Rose certainly may have been pressed as to future plans for Moukoko, Bynoe-Gittins, Rothe, Knauff, Lion Semic, and others. Developing young talent is a major component of Dortmund's strategy, and Rose certainly would have been pushed on his plans (or so I speculate).
Whatever happened in that meeting, and I expect different accounts to leak at some point, Rose was finished at Dortmund by its end. It was really just the timing of Rose's firing that was a surprise, as few would have expressed shock if it were announced after embarrassingly being bounced from the Cup by Bundesliga II's St. Pauli, or knocked out of the Europa Cup by Rangers.
Naming Terzic at that point was axiomatic. In fact, it was unfortunate that Terzic was not given the permanent position at the end of the prior season. Terzic replaced Lucien Favre in December of 2020, and winning six games out of the first 11 games just didn't cut it in the eyes of Zorc, Watzke and the greater powers at BVB. This led to the offer to Marco Rose to take over from Terzic at the end of that season. At that point, Terzic was a lame duck, but shocked everyone when he led Dortmund to win the DFB-Pokal decisively over Leipizg, and to win seven straight in the league to finish the season in a Champion's League qualifying position. Too late to backtrack on their agreement with Rose, Dortmund invented a position to keep Terzic close- just in case.
The decision to park Terzic nearby now appears to have paid off. Terzic will now be given his chance to prove his Cup Championship and seven straight wins in the league were no fluke. Of course, he will have to prove it without the once in a generation scorer that was Erling Haaland. Off to line his pockets with tens of millions (and who can blame him?), Haaland was just too good to keep from the oil drenched clutches of Manchester City. Dortmund is still searching for a new forward to park up top, but Terzic and fans are hopeful that new addition Karim Adeyemi can use his tremendous speed to compensate for some of the loss. Dortmund have somehow found a way to move on in the past when players like Lewandowski, Aubameyang, and Dembele spurned them for larger paydays.
The infusion of young talent like Knauff, and the shift to three at the back to conceal the awkward Hummels/Akjani partnership in central defense is credited by many with being major components in Terzic's change of fortunes in the portion of the season he managed. Others point to his ability to motivate the players as the reason for his success. Is Terzic the real deal or was that Rückrunde just lightening in a bottle? We won't know the answer to that question for months and the media speculation and podcasts discussing it are simply meaningless.
However, the next month or so will be of interest to Dortmund fans, as the potential sales of Akjani, Hazard, Schulz, and possibly even Brandt are being discussed. And any sales will directly impact any new additions with Salih Ozcan being the latest addition before they need to start selling from that list in order to have the funds to buy. Dortmund fans are certainly hopeful that a Sebastian Haller or Sasa Kalajdzic will find their way Signal Iduna Park. The summer should be eventful.