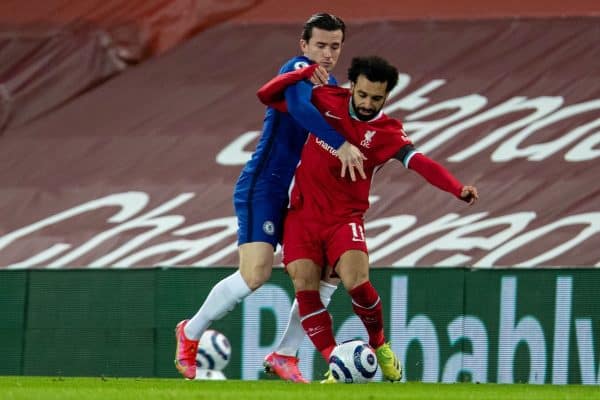 As I've referenced here a time or two before and as many of you who've followed Jürgen Klopp's career are aware, his last season with Borussia Dortmund was not great. He acknowledged that it was time to leave well before the season had ended and several players, among them Mats Hummels, later admitted that they had begun to tune Klopp out; that his message no longer carried the urgency that it once did. I've been musing on that possibility for a couple months now, primarily because, even with the devastating injuries that we've had, we shouldn't be losing 1-0 to sides like Burnley and Brighton. What I've seen resembles a kind of team-wide malaise, where they feel frustrated that whatever they're doing on the field isn't working and they become even more ineffective as a consequence. A further consequence has been losing; now 7 of the last 11, including the historical mark of 5 straight league defeats at home, which has never happened before. But I bring this up again because of a specific situation.
Mo Salah was subbed off with about 20 minutes to go. Given the performance of the front three, most would have assumed that the one to come off for Diogo Jota would've been Sadio Mané, since he was clearly trying too hard and letting Chelsea's smothering defense (and, honestly, repeated fouls) get into his head. But Mo was taken off because apparently Klopp had shouted at him to track back on defense and Mo kind of jogged ahead in response, instead of the expected sprint when the boss starts having a one-sided conversation with you. Right away, he was hooked. That speaks to me of players who've decided that said boss' opinion is no longer as important as it once was and that's rarely a one-player phenomenon. It's easy for that attitude to set in when you start losing games. The manager is yelling at you to do things but those things aren't producing goals or wins so you start deciding that you'll do something different in the hopes of changing the situation. What this adds up to is another credit to Sir Alex Ferguson's approach: It's possible that you simply can't leave a squad together for this long anymore, even when you're winning. There has to be some transformation, with new guys coming in who are only too eager to listen to the boss and setting an example for those who may have become a little jaded. Jürgen would later insist that Mo had been subbed because he looked fatigued, but we'll never know if that's a reality or if it's Klopp covering for his guy and not wanting the press to run with a story.
A further reinforcement of what may be the prevailing attitude issue is embodied in the presence, or lack of, the team's captain. It's painfully obvious when Jordan Henderson isn't on the pitch to reinforce Klopp's message and add more specialized encouragement of his own. That speaks to me of a lack of leaders among the current squad. That's why I'm betting that, despite needing even more offensive push in the last 10 minutes against Chelsea's parked bus (And isn't that just a flashback and a half…?), we brought on James Milner, Robot Warrior instead of Naby Keita. Milner is the vice-captain and I'm betting Jürgen wanted him to try to push the squad forward, even if he's not exactly the kind of technician you'd want to crack a set defense, especially with Thiago Alcântara coming off for him. To Jürgen, it was probably more important to have a cheerleader for the good things he'd already seen in the match than to hope that Naby would produce something magical. Both hopes, of course, came to nothing. Clearly, we've suffered from both not having Henderson in his accustomed midfield role to influence everyone and everything on the pitch AND wanting to play more skilled midfielders than the now 35-year-old Millie AND not having the vice-vice-captain in the form of Virgil Van Dijk, who's also an adept motivator of those around him.
Now, one counter-argument here is that Dortmund did, indeed, have transformation, as they regularly lost their best players to Bayern Munich and other giants of the game, and had to bring in replacements. But being a selling club and being a top one that turns over to keep the squad fresh are two different situations, as the former is still brimming with experienced talent and the latter is still developing it every year. So, no matter how this season turns out, I think it's time for a thorough housecleaning this summer. It will still be a bad market to do it in, as teams are still hurting for money everywhere across the continent, but it's probably something that needs to be done. Note that I'm not suggesting we sell Mo because of one game. He's still the best right winger in Europe. Nor am I suggesting that he's a "problem child" or that the players are "spoiled" or any of the other ridiculous masquerading-as-working-class horseshit that commonly gets spewed about "entitled" athletes. These are natural team dynamics that often accompany sustained success. But I think we could do with moving on three or four regulars and seeing where we come out. Of course, if we fail to make the Champions League, we may be forced into that situation, anyway, since the loss of money will make our current wage load unsustainable. The downside, of course, is that, pre-pandemic, we had just signed a bunch of the guys to long-term deals, so if we can't move them, we're kinda stuck.
So this is the next closest thing to a relegation battle now. We'd expected this squad to challenge for a treble if it was fully present. Instead, we're where we were four years ago and might end up needing to win on the final day to make top four and the CL. All of us expected a lot more out of this squad, but no one expected to be playing sixth choices at centerback because the stand-in midfielders were also out with injury, either. One wonders how different things might have been with fans at Anfield to help urge the players on in the same way that Klopp was attempting. The pandemic has changed a lot and I'm hoping it won't leave a lasting impact on what was hoped to be a regular return to past glories.
Liverpool 0 – 1 Chelsea
If you'll notice, there are no large boxes in that diagram for Liverpool because we didn't get any really good chances. The fact that we didn't have a shot on target until the 85th minute is emblematic of that. Chelsea's 3-4-2-1, which became a 5-4-1 in defense, did exactly what it's designed to do: contain and counter. The strange thing was that the emphasis was really on the counter, as Timo Werner and Hakim Ziyech were off like they'd been shot out of a cannon whenever Chelsea got the ball… but they didn't have the ball for long stretches and their wingbacks were playing like regular fullbacks in many cases, rather than trying to outnumber us in the middle third. In short, it looks a Thomas Tuchel team: Very solid, pretty basic, and probably not good enough to do anything but win Ligue 1, where Chelsea unfortunately do not play. But they are good enough to contest a top 4 spot with us, which is better than they were a couple months ago under Frank Lampard, so that's, y'know, bad.
And on that whole transformation thing… I'm starting to think that we need to really rethink our offensive approach. It's become obvious that it's simply too easy for teams to counter what we do by staying deep and flooding the box. Thiago was supposed to be the answer to that, but he was also supposed to be playing with Virg behind him and Hendo alongside him, which has been a very rare occurrence this season. But you can't help but see that every time we move the ball wide, what seem like good counter-attacks just die on the vine. Everything lurches to a halt and we get nothing from what seem to be good opportunities. In the couple previous seasons, we often switched to the 4-2-3-1 to stretch the opposing defense in their third but we haven't done that at all since Diogo went out injured. Now that he's back, I'd think it would probably make more sense to still use a high back line but keep at least one of the fullbacks filling the space between the 2 and the 3 of that formation; almost like a wingback. But what's clear at this point is that we can't keep trying to hammer the nail that won't move. OTOH, Jürgen also said after the match that "it's not about tactics, but about being resilient. Having heart." so… yeah.
English officiating. Couldn't go one more month without this being a direct issue. I mean, this is Martin Atkinson, right? As long as there's no blood, most fouls don't exist and Sadio learned that to his detriment again. But the real problem didn't come from Anfield, but rather Stockley Park. Again. That goal by Timo Werner should have stood and we might've ended up losing 0-2. Using VAR to decide offside is, as usual, an utter debacle in the Premier League. If you can't score with your arm, it shouldn't matter that you arm is "offside." But, speaking of arms, I literally have no idea what's meant to be a handball anymore. None. N'Golo Kanté had raised his hand and it blocked the path of the ball inside the box. That's a penalty in the game I watched for 40+ years before these last couple. You can't even use the excuse about how close Roberto Firmino was to him when kicking the ball because they took that condition out of the handball law this year. So, I guess if there was any competency among PGMOL, we would've lost 2-1. Yay? Still no open-play goals in the year 2021 at Anfield, but maybe Mo would be one step closer to a bonus for the Golden Boot? That may be the only bonus anyone is earning this season.
Can't end on a happy note, either. As most of you know by now, Liverpool legend Ian St. John passed away three days ago at the age of 82. He was a true star of the club, playing for the decade under Bill Shankly that saw the club rise from the second tier back to the first, where it remains to this day. As Jürgen noted this week, he was also a wonderful person to know and was respected around the league and across the game. He was a bit before my time of joining the club, but I knew his name well. We're unfortunately going to be seeing more of Shankly's and Bill Paisley's men finish their tours on this planet in the near future. On that note, Phil Chisnall, the last transfer between Manchester United and Liverpool (1964), also passed today at the age of 78.
Fulham on Sunday, who are among the three teams that have generated fewer league points than we have in this calendar year (West Brom and Newcastle being the others.) It's at Anfield, which apparently means nothing positive anymore. But no other choice than to soldier on and see if we can get through.