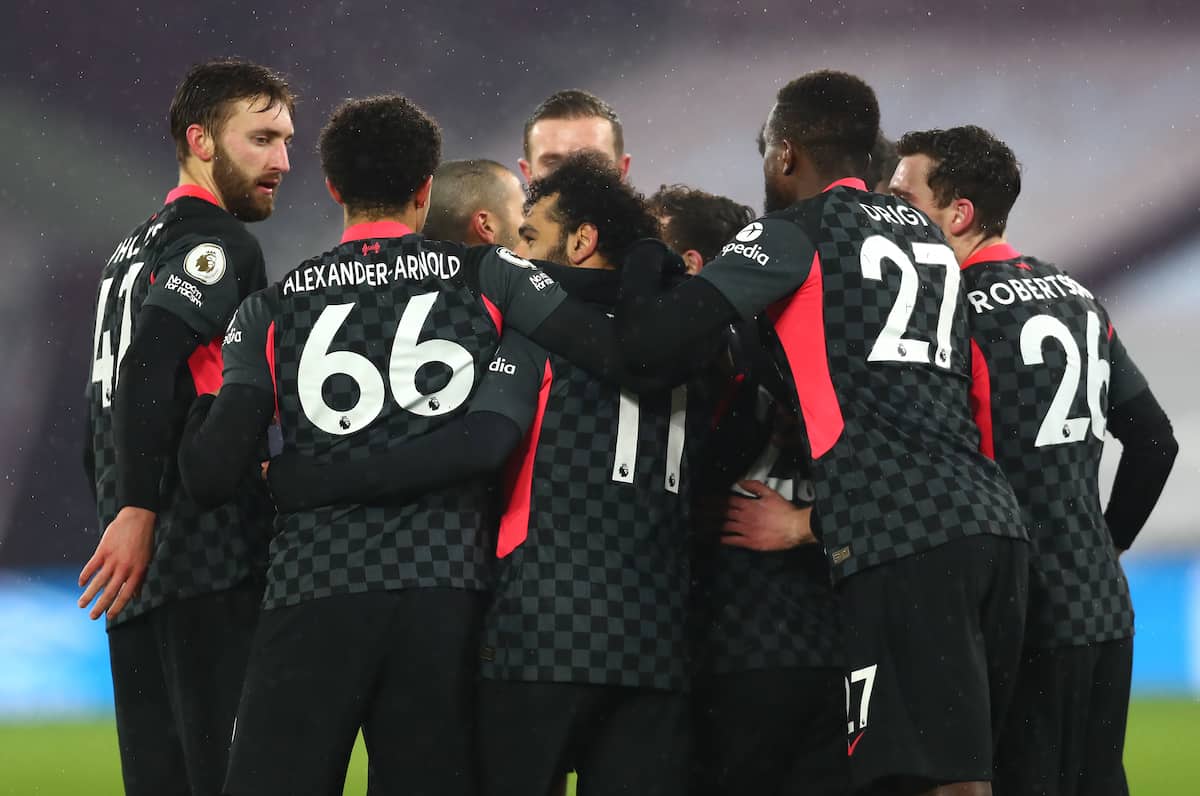 Most LFC fans probably winced when they saw the lineup this morning, given that the opponent was a seemingly-resurgent West Ham, whom we were competing with to secure fourth place in the current table. Without Sadio Mané and with Roberto Firmino on the bench, our front line was Mo Salah, Xherdan Shaqiri, and Divock Origi. Three days after rediscovering our goal-scoring touch at Tottenham Hotspur Stadium, we traveled across town to the other monstrous structure that, unlike the former, is totally unsuitable for football. Anyone could've been forgiven for thinking that we were going to return to recent form without two of our up-front talismans. This seemed to be playing out in the first half, as we clearly were sitting deeper again, with Trent Alexander-Arnold and Andy Robertson often hovering near the midfield line, and generating little in the way of actual offense. The first shot on goal for either side didn't come until we were almost 40 minutes into the game and with the Hammers conducting the typical Moyesian approach to football, which basically means utterly surrendering the ball and the initiative to us and hoping to win on the counter. Wait… I'm sorry. Did someone say "win on the counter"?
Hm. Yeah. I was telling my friend, Jerry, that that result had been pretty common in the previous couple seasons, to the point that some clubs were leaving multiple guys back to protect against our propensity to score from the other side's corner kicks. That said, few of them were quite as pretty as this one. You can count seven touches among 4 players: (1) Robbo clearing the corner; (3) Trent controlling, moving, and then sending a great lead ball down the opposite side; (1) Shaq putting a spot-perfect pass into Mo's feet; and (2) Mo's exquisite touch to bring it down with his right foot, before tapping it past Lukasz Fabianski with his left.
One of the best things about that whole sequence is how Shaq one-times that pass. Mo said after the game that "the ball came right to my feet!", which is one of the too infrequent displays by the Swiss international of just what he can do with the ball. That's the kind of depth we've always been hoping could be a reality for the front line and Shaqiri has shown it a time or two (one recalls the great win over ManU a couple seasons ago) but not often enough because Jürgen Klopp hasn't trusted him with possession and defensive duties in the middle of the park. This was a drastic vote of confidence in that respect today, since he essentially had Shaqiri playing as a 10 at the top of a diamond (Klopp referred to it after the match as a "double 10" with Thiago Alcântara.) And it's a measure of the depth that we're going to need, given the rampant injury problems (hence, the absence of usual suspects Mané and Fabinho, on top of the long-termers (Virg, Joe) and the rarely-cans (Naby, Joel.)) Indeed, Shaq played well all over the pitch today (most chances created, with 3), which in another sport would've included a "hockey assist" for this:
I understand the sentiment from NBC Sports, but saying "He's baaaaack!" about the guy who was leading the Golden Boot race before this game and is leading it by even more now is just an example of how short the memories in the football world often are. Among those short memories are all of West Ham's defenders who let Mo get the ball onto his left foot in the middle of the box. Part of that whole sequence was a close-up on Klopp's conversation with James Milner, Robot Warrior about why the latter was coming off for Curtis Jones (turns out it was to protect a stiff hamstring.) Jones, of course, immediately picked up the ball, drove forward, and fed Mo for the goal, leading to Millie's explosion of laughter with the boss. Guess the manager knows best about subs, after all.
The downside to the depth story is probably Divock, as has become customary. What Klopp sees that keeps him putting Divock into basically any role on the pitch is beyond me. He's known as the most laid-back guy on the squad in the dressing room and, way too often, he retains that attitude in matches. Lee Dixon, not normally inclined to pile on players, even pointed it out, citing the fact that Liverpool's attack slowed down dramatically whenever Origi had to be a part of it. He simply can't play at the speed that this squad and its manager demands and, yet, Klopp seems to think that he can be an important part of it, since he's clearly favored over other options, like Takumi Minamino. The best moment for Divock was almost being on the successful end of another killer pass from Thiago that ended up just past the near post. But if Klopp considers him an important part of the team, then I guess he is. It's too bad for him that it's such a remarkable contrast with Bob, who is often key in team goals like this one:
That's a two minute clip from Brazilian TV showing the 34(!) passes that led up to the third goal, which was created from a brilliant exchange between Alex Oxlade-Chamberlain, Bob, and Gini Wijnaldum, who basically couldn't miss when Firmino put it on a plate for him. I can't even imagine Origi being part of a sequence like that, as he lacks both the mobility and the touch for it. But the important part is that we can bring on 20-year-old Curtis to be a spark in the midfield and we can continue to play Captain Jordan Henderson at CB, despite being best at the #8 spot, and we can function perfectly well with Nat Phillips alongside him, even while we have what are easily the worst injury problems in the league. And we still sit fourth. Despite all of the goals coming from regular starters, today was an expression of our depth coming through for us at a key moment in the season. Long may it continue.
West Ham 1 – 3 Liverpool
Aside from the brilliant goals, the most interesting thing about this game was the formation change because it and the gaffer's brief explanations afterwards presented some interesting notes about how Liverpool has been approaching the required position changes and the availability of different personnel. The initial formation was some version of a 4-4-2 diamond. And you could see that, in the first half, we pretty much conformed to that shape, with Trent and Robbo providing width as FBs typically do in that formation, but not diving quite as high as they normally do. The picture that presented was one that most of us had hoped was repainted during the Tottenham game, where we met Jose's parked bus with a full-on assault, no matter whom was holding the back line. West Ham, just as determined to surrender the ball to us, stymied a lot of what we were trying to do in the final third and what was likely a combination of unfamiliarity with the setup and non-regulars in the front line defused the rest of it. Klopp referred to "double 10s" and I think what he meant by that was that Shaq and Thiago would regularly trade places atop the diamond with an intent to focus activity in the West Ham end, with Gini and Milner basically playing a two-man #6; in essence, a 4-2-4 but without surrendering the responsibilities of anyone in the midfield (or Shaq) to slow the progression of the Hammers' counter-attacks through the middle third.
In the second half, he said they tweaked the system so that Thiago would stay higher and Milner (with concern over his hamstring) would stay deeper and "pass more and run less", as the boss stated. That also meant that Origi and Mo became more narrow up top, thus shifting to a 4-2-2-2. That's when things really started to move, as West Ham was still well-drilled in preventing Robbo and Trent from running rampant in the corners, so their width created more space for quick interchanges between the midfield two and the front line two. That's basically what we saw in the first goal, as Curtis had the freedom to surge forward and the space to make an exchange with Shaq and then with Mo.
The other positive sign was the Euro football version of what American football refers to as "the victory formation", where the offense packs together and the quarterback kneels on the ball until time runs out. Liverpool's version of that is to basically play keep away with the ball (Mo and Trent exchanged no less than 8 passes in one sequence) whenever they have a two-goal lead. We did it midweek against Spurs and we did it from the 80-minute mark in this match. Since we tend to encounter so many teams that want to play on the counter and, thus, surrender the ball to us, it becomes that much easier to turn the whole pitch into one massive rondo, which is basically what happened here. That's the other upside of having midfielders and players like Bob who are so good in possession. Or like this guy:
The above should also include most passes into the final third (15) and most duels won (8.) Something tells me this buy is gonna work out. But there's also the long-timers to consider, like this guy:
Milner was teasing him that "you better be careful, because if you keep playing like this, you'll be centerback for the rest of your career." As Arlo White pointed out, one of the few positives of the stadia being empty is that it's easy to hear how vocal Hendo is on the pitch. The true measure of a leader is being willing to do anything and everything for your team and continue to encourage (and occasionally have a go at) your teammates whenever you're on the pitch and in whatever position. That's consummate Jordan Henderson. Either of those two could have been considered MotM, but I think it has to go to this man:
I'm not one of those "goals are most important, so whomever scores more is most important" types, but with Mo it's rarely just what ripples the back of the net. His motion, his defense, and, yes, his ability to create goals when they drop out of the sky or when three guys in front of him can't get him off his left, is what makes him the best winger and probably the best forward, period, in the Premier League.
Personnel things. There have been a lot of questions about Taki's status at the club and why he can't seem to get game time ahead of players like Divock. The stories filtering out are that he's just not showing enough in training to convince the boss. Now that we're out of the casual cup competitions, he may not get another chance. Of course, the reality may be that he's simply not good enough to be a regular PL player, which is fine for a purchase that cost us the relatively minor sum of €13 million. It's disappointing and he still hasn't been at the club that long, so there's plenty of time for him to improve, but that seems to be the lay of the land, at the moment. It does make one wonder exactly what Divock brings to training that he doesn't bring to matches…
We're also expecting the return of Diogo Jota any day now, but have been warned that Fabinho is out for the Brighton game on Wednesday, meaning CB-for-the-rest-of-his-career Hendo will be pairing up with either Nat Phillips, who did perfectly well today, or Rhys Williams. That game might be a good moment to get Ox a bit more run, as well, so that we can be sure to have key pieces like Thiago ready for the following match which is, of course, with league-leading Manchester City next weekend.