So… that didn't proceed as expected. I mean, no excuses. Leeds are a decent side and certainly quite different from the last Championship title-winner we faced in the opener (i.e. Norwich, last year.) In short, Leeds rely more on a pressing system that is able to adapt to different strategies and less on the superlative goalscoring ability of a singular Finn. That said, most Liverpool fans wouldn't have foreseen repeated defensive errors by Trent Alexander-Arnold, Joe Gomez and, uh, the best defender in the world, Virgil Van Dijk. But, no matter how it looked on the face of it, just looking at the xG (3.15 to 0.27 in our favor) shows you that not only was there a fair amount of fortune to Leeds' goals, but there were chances that we didn't take advantage of. Due credit to them: they took advantage of the chances presented and did well. But I don't think it's quite the defensive disaster that a lot of observers imagine it was. Manager Jürgen Klopp was effusive after the game as to how much he enjoyed it: "It is not like riding a bike, you can lose something in pre-season and it takes time to all come together again. I am really positive about this game." That's not normally the reaction of someone who's come away with a 1-goal win and looked terribly shaky at the back. He did acknowledge that there was room for improvement, defensively. Can't argue with that.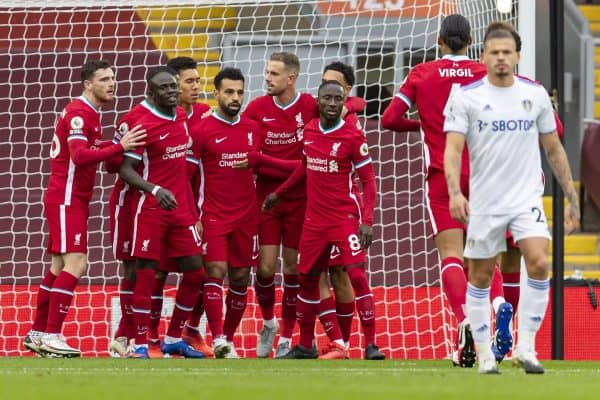 He also pointed out that the first goal we allowed came from a positioning problem, with both fullbacks deeper than both centerbacks, which is not the way we play at all. It is possible that, given that all four of the players cited were away with England, Scotland, and Holland last weekend, playing different systems, these kinds of mixups can occur. The second goal was just a flat-out miscommunication between Virg and Alisson. And the third was, according to the gaffer, when Hendo had just come off for Curtis "Curtinho" Jones and the formation was shifting and we left a gap. So, yeah, all of them explainable. What was also explainable was Leeds' club record signing, Rodrigo, giving up a soft but still totally callable penalty to Fabinho for Salah's winning PK. So, in the end, kind of what you'd expect from a first game in this very strange year: not quite on point ("Merry New Year!") and a lot of people complaining about how it's not supposed to be this way ("Happy New Year. In this country, we say 'Happy New Year.'") But still three points, which is always the best way to start.
Liverpool 4 – 3 Leeds
The starting lineup was… strange. As I said in my piece on the midfield, Fabinho is the one real constant in our midfield formation, and he was on the bench with O Captain, Our Captain starting at the 6. That put Keita on the left side and Gini Wijnaldum on the right which, as most recent examples will display, is not optimal for reasons I also touched on in the amoeba piece. Given his pace and general lack of involvement in the offense, I think Trent is still dealing with the injury he picked up in the pre-season. I'm betting that Klopp's thought was that we needed Hendo's intensity to deal with a Bielsa team, but he didn't want to run him too much, since he was also just recovered from an injury. That makes a game as the DM kind of ideal, since it involves less movement than his usual role. The hope is that Gini's normal defensive intensity could be focused toward covering for Trent, who may have needed more help than usual. It did not work out that way. However, it was quite noticeable that, despite giving up the third equalizer of the day to the Whites, the defensive synchronization was much improved when Fabinho came in. Leeds pushed hard early on, but pretty much got neutered for the latter period of the second half. Again, xG kind of tells the tale, as does the shooting gap (22 to 6 in favor of LFC.) It's not a great thing to give up 3 goals on 6 shots but, as always, football is weird, yo.
Man-of-the-match was, of course, the hat trick hero, Mo Salah, especially for the lone non-penalty goal in his effort, shown above. That was the pinnacle of a day with the most touches (87), most completed passes in the final third (35), most shots (9), most shots on target (3), most dribbles (7), and most chances created (4; shared with Sadio Mané.) Someone (who shall remain nameless) was lamenting the idea that Salah seemed past his prime in the restart games and the pre-season. So much for that. It also means a continuation of our win streak with Salah scoring (35) and Mo becoming only the second PL player to score on opening day in 4 straight seasons. He's also the first LFC player to pull a hat trick on opening day since John Aldridge in 1988. Also also, that's .64 goals/game for Mo in the PL. Only Kane, Henry, and Aguero have a higher average.
But, speaking of Mané…
Yeah, man. That sequence came right after a similar game of keep away by Salah, as a kind of instruction to Leeds' defense on what it means to be back in the PL. (I would say "Welcome back", but I don't mean it.) Sadio added to that with those 4 chances created, the 2nd most shots (5), the 2nd most dribbles (5), and a tackle in the usual fleet-footed Sadio style.
It's fair to say that our motion gave Leeds some fits, as they were flagged offside 5 times. To extend that picture of being more dominant than many thought, we also had 9 corners to Leeds' 0, which is the first time I can remember that happening in quite a while. That's usually the sign of a counterpress working well, which is another possible explanation for Keita's inclusion, as he's quite adept at that. Yes, Leeds were fast. Yes, they caused some disruption. Yes, they will be a decent challenge in the league this year for many sides (barring unforseen injury or perpetual Rodrigo mistakes.) But, no, it's not time to hit the panic button.
Small notes. It's encouraging to see Klopp not only use all of his subs in a relatively timely fashion, but get immediate effect from them. Swapping Naby Keita out for Jones gave the midfield a real spark, as the latter, now a confirmed rotation player, created a lot of the offensive motion and quick passing which Keita is usually expected to display, but which was oddly absent today. (Also, that call by Michael Oliver on Jones that denied VVD's second goal was, uh, questionable, to say the least.) Again, Fabinho relieving Hendo was precisely what the midfield needed, as it allowed Gini to resume his customary position on the left and solidified the zone in front of the back four. Putting Joel Matip on to lock down the last few minutes took a struggling Trent to the sideline and allowed Joel to display a couple moments of his incisive passing to maintain possession, rather than simply perform clearances. All in all, job well done.
Next week: We get to go to the Bridge and face Abramovich's latest spending spree. Who needs Financial Fair Play? Not Frank! Yay.
I love Arlo.