And, man, is it fun to live there, because Klopp makes everyone feel better about themselves. He admitted in the postgame press conference that he told the squad before the game "It's impossible, but because it's you, we have a chance." Despite it being his world, he told those players that they could take the reins and make this happen; for themselves, for the fans, for Liverpool. This must be the part where we talk about the quandary of an omniscient, omnipotent deity in a world with free will, right?
Everyone is citing this as the greatest European night at Anfield ever and there's some merit to that. No one, including many LFC fans, gave us a chance being down 3-0 to Barcelona, Spanish champions for the eighth time in the last 11 years and having won 4 European Cups in the last 13. And, of course, there's the little matter of the fifth-best player in the world. But there's also the little matter of Barcelona's recent record in the Champions League. They're not PSG (because, really, who can be but PSG?) but they've given up some significant advantages in the late rounds in the past few years. It's almost as if they spend the whole season romping over a domestic league and don't really know how to respond to pressure… but, nah. That can't be.
However, there's a key word there: pressure. It is true that there's basically no one in La Liga who plays the game the way Liverpool plays it. Rightfully concerned about seeing Messi and Suarez streaking past them, those sides don't play the high press in order to try to contain the Blaugrana in their own end. This was a concern voiced to me by a couple Barca fans that I know. Liverpool's pressure is a real thing and if you're accustomed to it and/or willing to bunker yourself in like Tommies at the Somme (aka Burnley), then it's easier to deal with. Barca don't play 'dat and it was apparent for much of the game at the Camp Nou. Taking nothing away from one of the greatest teams in Europe, the 3-0 scoreline flattered them, as LFC were a couple key moments from making that margin much smaller. But given that margin and given Barca's unfamiliarity with being harassed in the way Liverpool can, Valverde really wanted to pick up his ball and go home and his tactics played out that way.
Barcelona wasn't playing to win the game. They were basically playing to not lose it. They were going to play slowly, hold the ball, and try to get a shot on the counter, just like they did at the Camp Nou. Liverpool tried to do the same thing early on in the first leg and that's just not our game. Klopp corrected that, told his players they almost literally had nothing to lose, and gave them free reign to press Barca all over the field. The mental strain of trying to resist that constant harassment and play the possession game that the Blaugrana like eventually got to them. One team "wanting it more" than the other is typical sports radio bullshit. These are all pro athletes. They're all here because they like to compete and "wanting it more" doesn't win you games. HOWEVAH, there is something to be said for regularly being in a pressure situation that makes you accustomed to it. Liverpool has basically been in a cup final, every week, for the past four months. Every game has been, effectively, win or go home. That being the case, asking the team to play the way they've been trained to do, under Klopp in general, but in the latter half of this season in specific, is not an issue. They're already programmed to do it. Barcelona, OTOH, has basically coasted to the Spanish league title, with their one major rival in a tailspin and the other semi-rival still convinced they can win the league by having the most 0-0 draws. Half the team was rested by Valverde before the first half of this tie. The whole team was rested before this week. They honestly came out looking like they'd been cooling their heels for a while. Liverpool has had no such luxury and came out ready to win. Because Klopp told them we had a chance.
I know it's difficult but try to give him some credit. Mourinho is a colossal pain in the ass when he's managing against you. However, get the guy off the pitch and he's actually decent (and often quite funny.) He's been doing the commentator thing for beIN Sports and was at the desk today talking about the match. Despite his prickly attitude about Liverpool (which he engages early on when he talks about the Garcia "non-goal"), it's clear that he has a lot of respect for our club and Anfield's atmosphere:
The best part is the postgame commentary that begins at 6:25 when he agrees with me that this win is just another example of Jürgen's World, but the whole thing is really worth watching.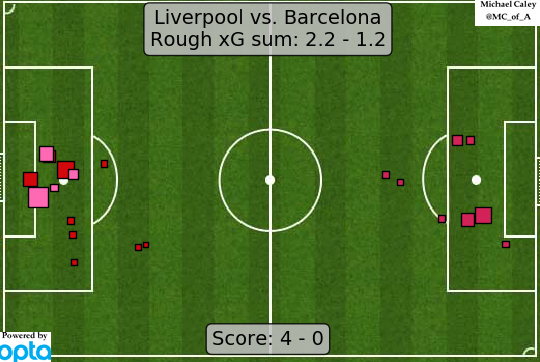 Tactical stuff. I think Klopp played too cautiously in Spain and I think he learned from that, in addition to having the freedom of fighting against an 0-3 deficit. We kiiiinnda set up in a 4-3-3 with Fabinho (one of many man-of-the-match candidates today) at the 6, but he was a weird 6 because he had a lot more freedom to move outside his typical role of protecting the back four. He pretty much just roamed around the middle third, contributing wherever he thought was a good idea at the time. One part of that role was, of course, shadowing Messi as much as possible but he also came out to the wide channels frequently to support Trent or to retrieve a ball for Mané or whatever. That freedom to roam asked a lot of Milner and Hendo, since both had to fill the gaps that Fabinho created. That's why you often saw Hendo streaking across the field to come after a ball that Barca tried to move forward (in addition to the "all press, all the time" that was the order of the day.) Having Trent back on the right was definitely an improvement over Gomez. While the latter can fill the role, he lacks Trent's brilliant distribution skills. And, since he doesn't usually take corners, might not have been as quick to take advantage of sleepwalking Barca players on that last goal. That kid's got balls of solid rock.
However, credit really has to go to everyone on our end of the field. Alisson with a couple brilliant saves; Matip and Virg being equal pillars of creation in the middle; Robbo returning Suarez's shithousery right back to him (although, in a world with VAR, maybe slapping the head of that fifth-best player on the way by isn't such a great idea); our midfield often dominating the middle third; Origi and Shaq making themselves viable scoring threats, with the former's great positioning and the latter's still excellent service; and Mané just continuing to be Mané, always a threat. However, the Gini in the bottle showed just how pissed he was to not be starting. Guess Klopp should think about that for Wolverhampton this weekend. Secret weapon ain't so secret no more.
So, here we are. Get the win over Wolves this Sunday and see what happens down in Brighton. It's not likely going to be the result we want, but tonight wasn't seen to be in the realm of the possible by most people, either. Now we have a chance to win the prize City really wants and they have a chance to win the prize we really want. If it turns out that way, do we trade?
Oh, and here's all of the goals in Arabic, because they're just as glorious in any language: